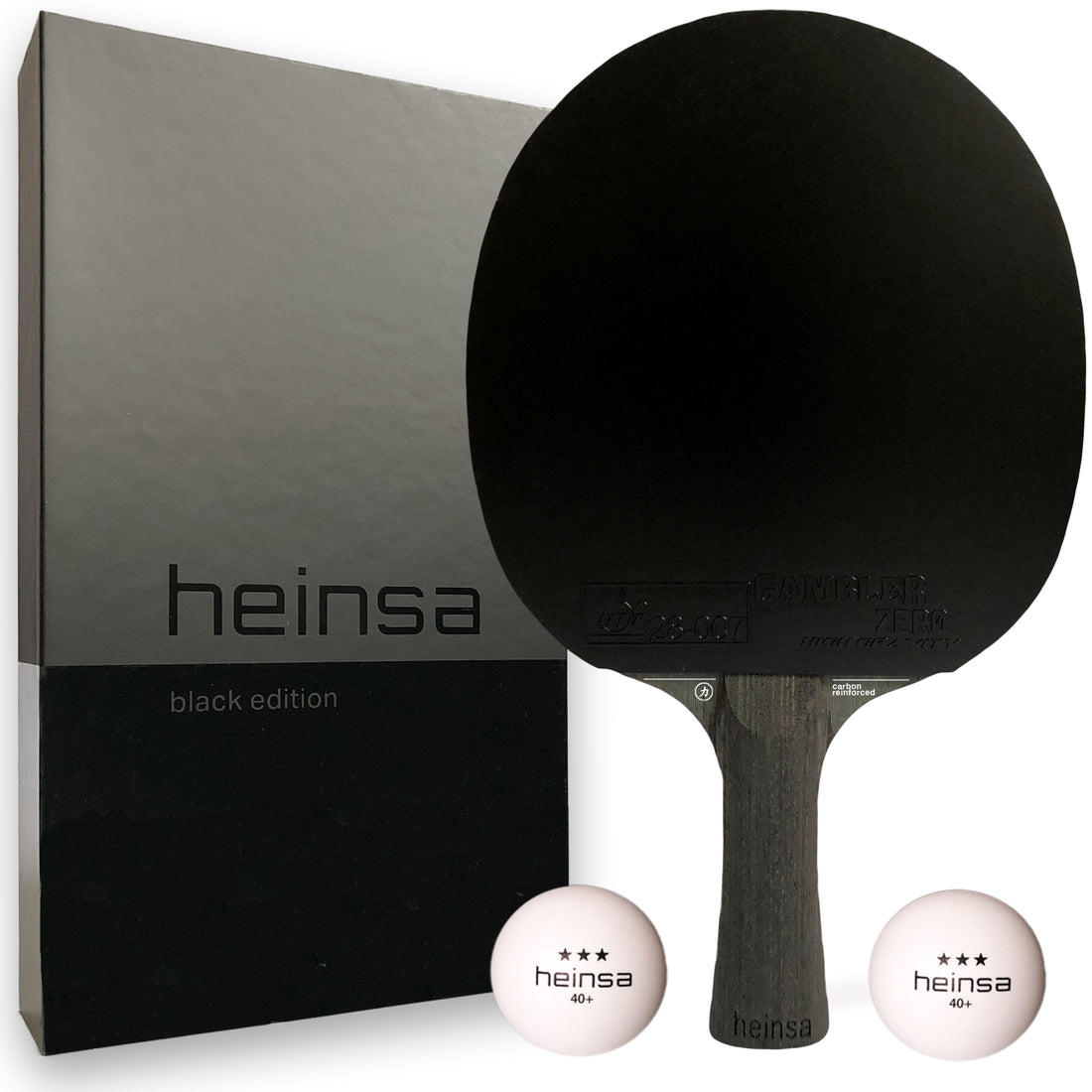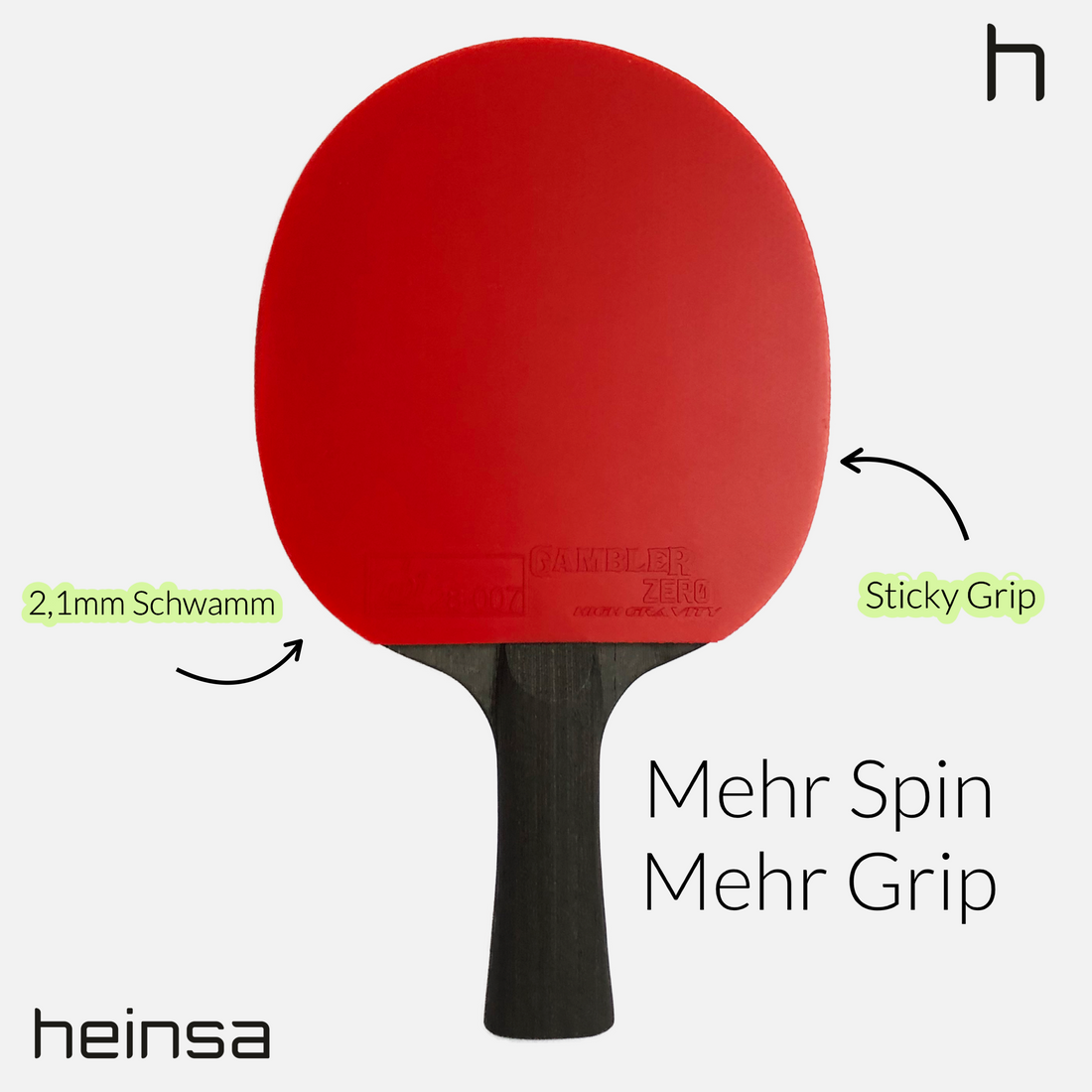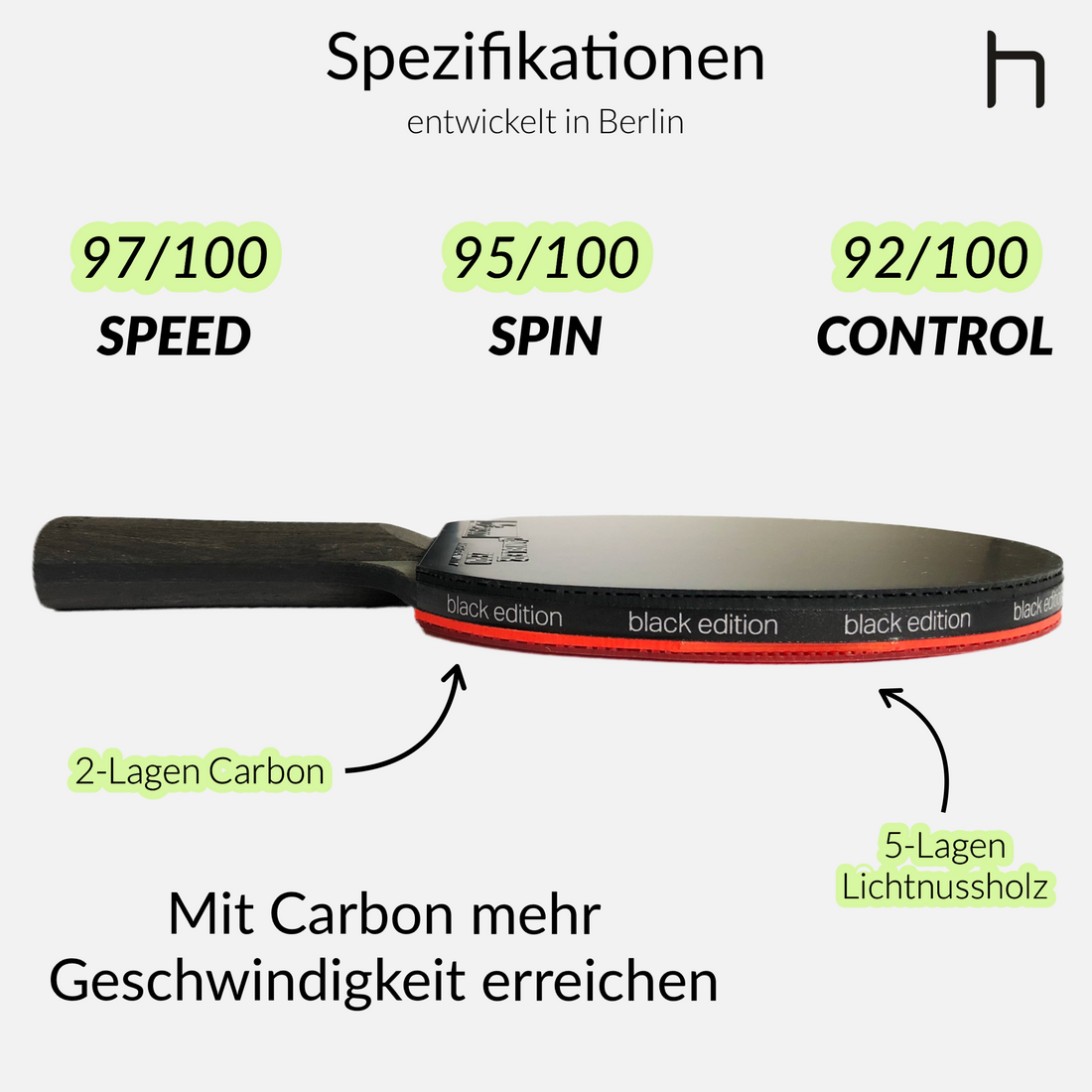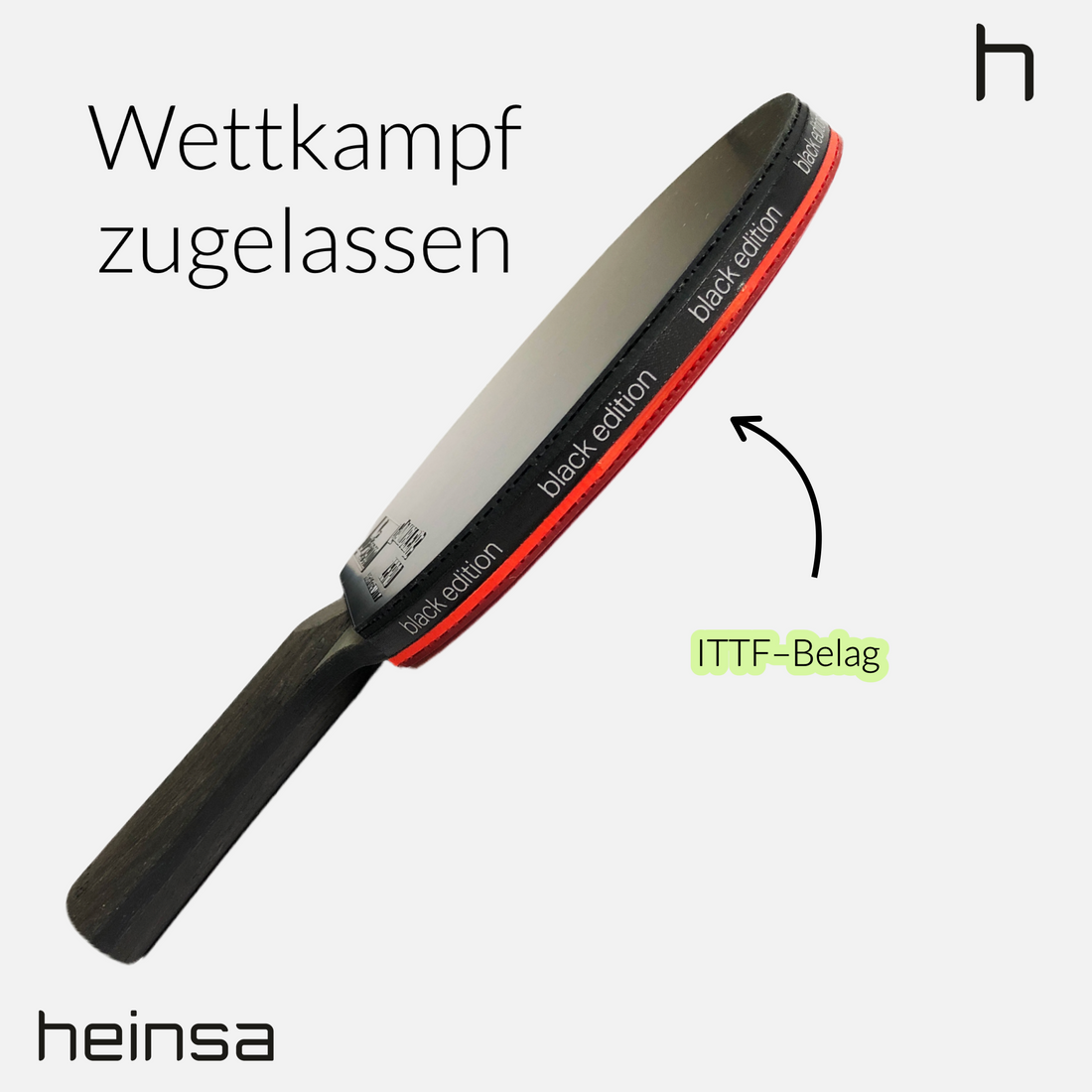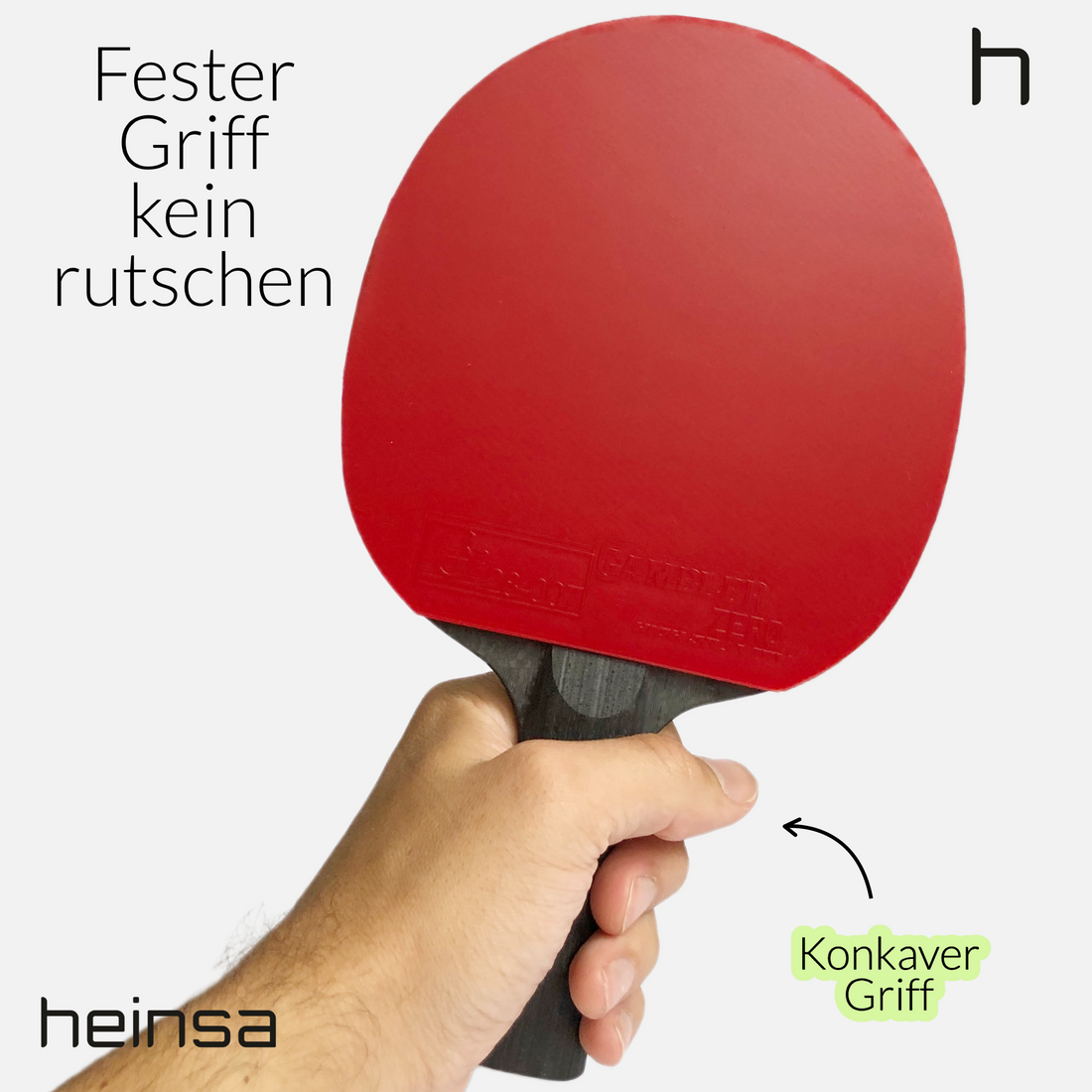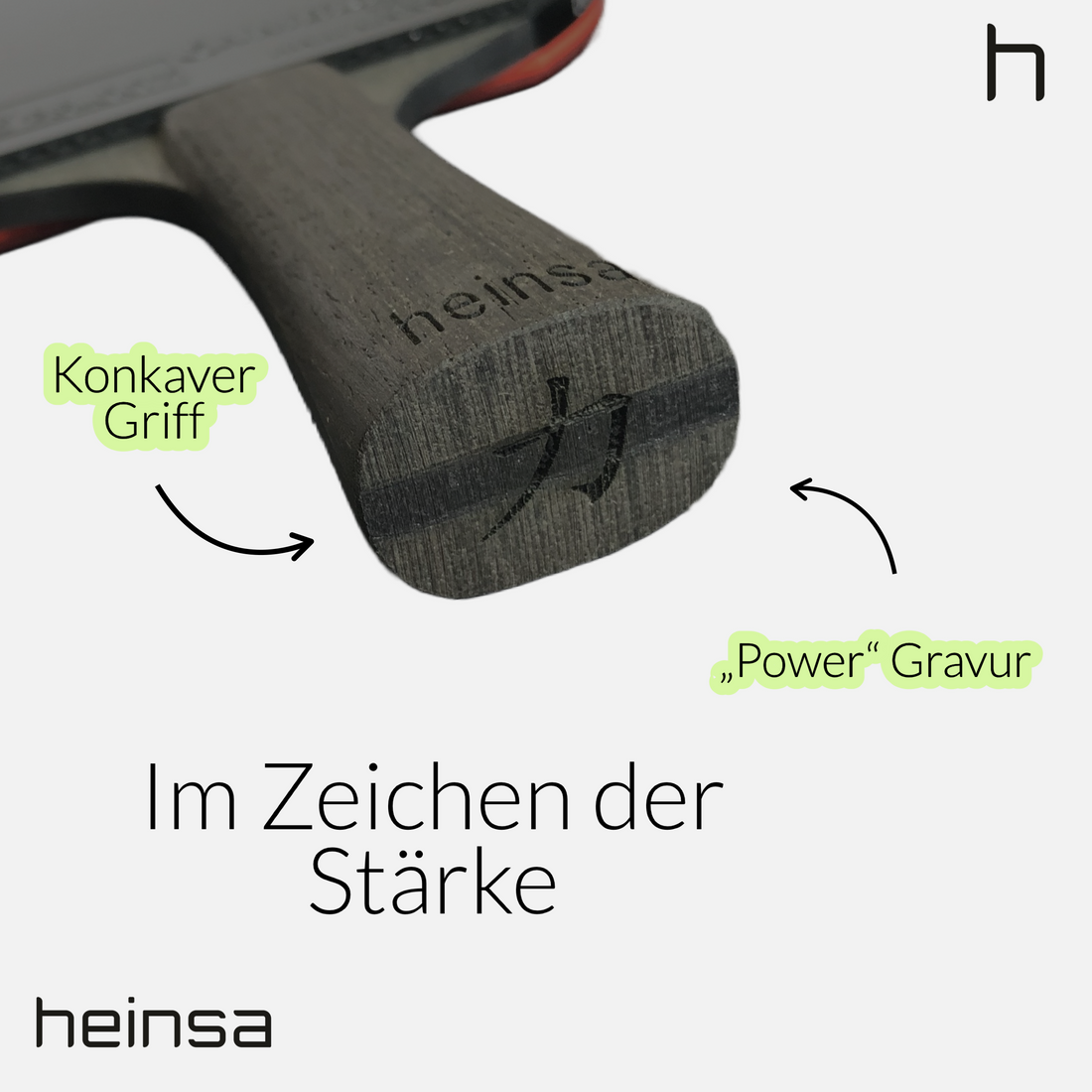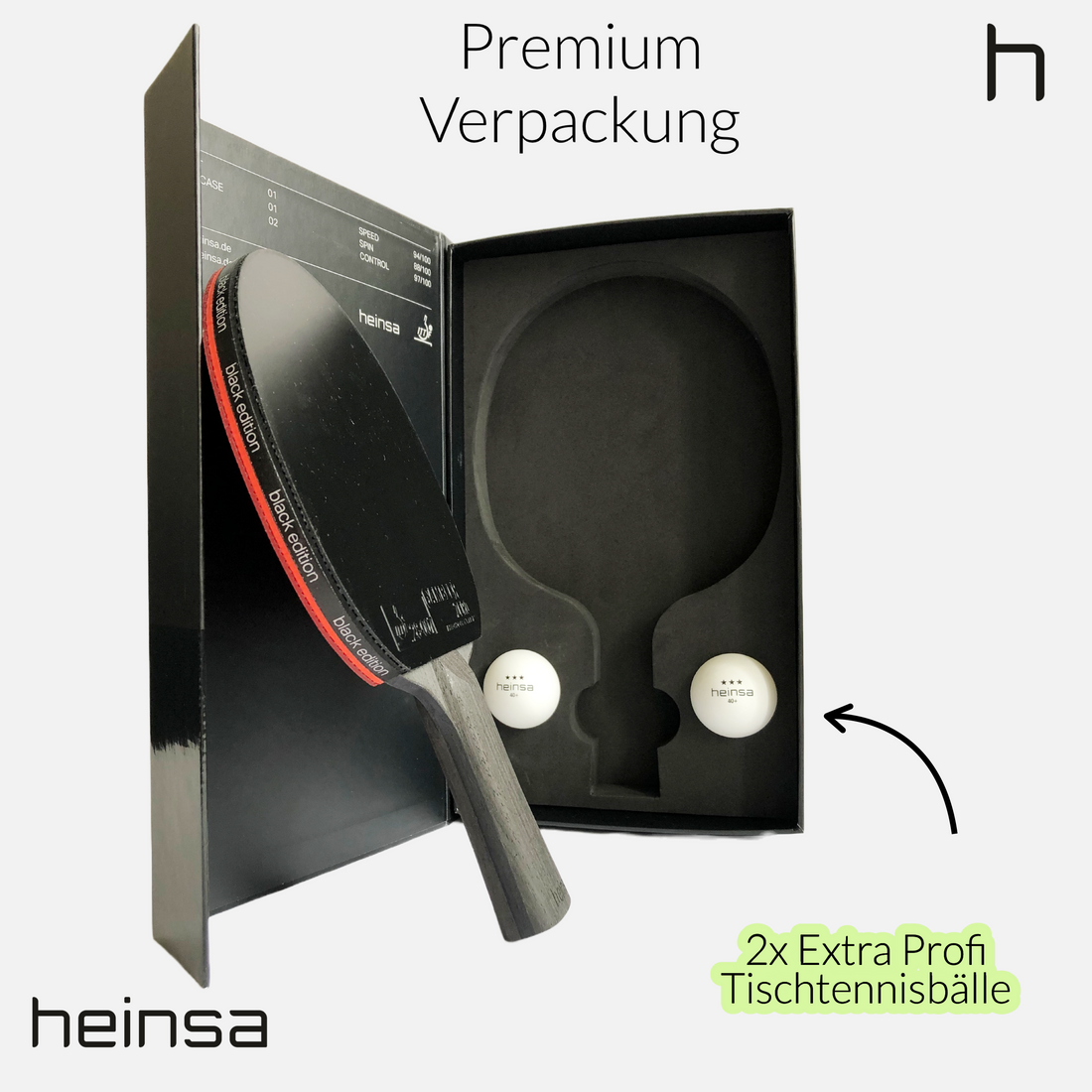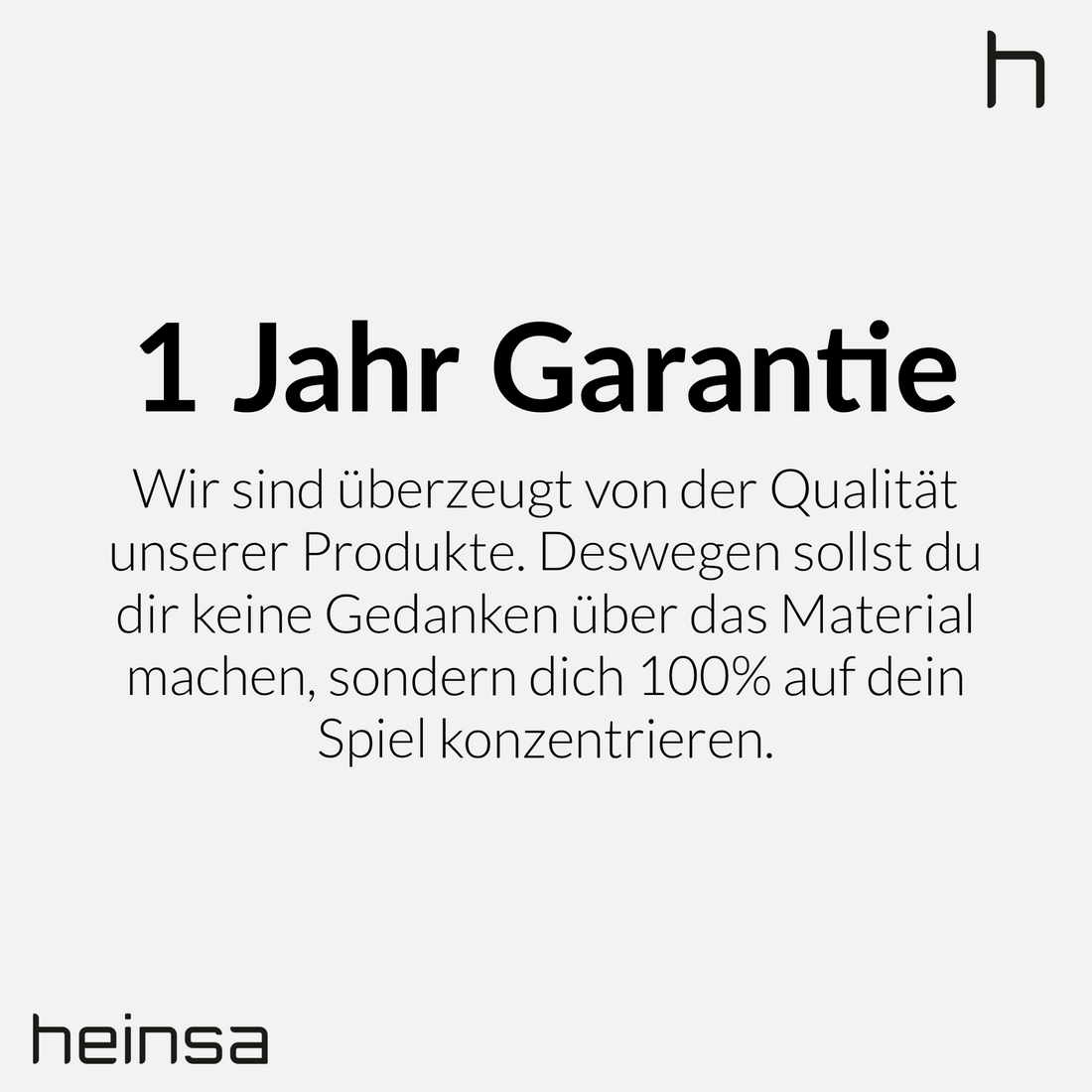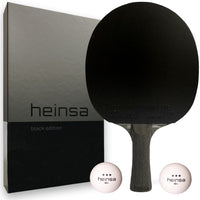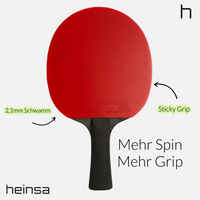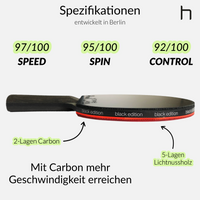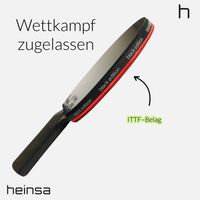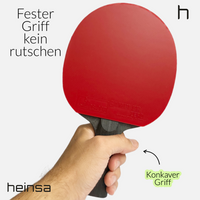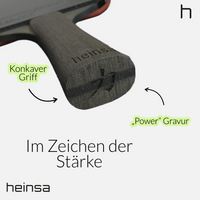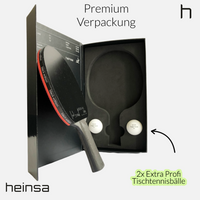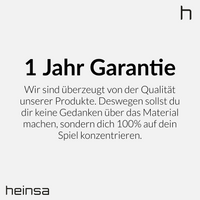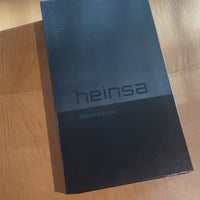 heinsa "black edition" professional table tennis bat made of carbon and light walnut wood
Delivery time within DE 1-3 days
60 days money back guarantee
Free Shipping & Returns
Designed in Berlin
Your benefits at a glance:
✓ 2.1 mm zero gravity rubber for more speed in the game
✓ ITTF approved for official competitions
✓ Inner pimples achieve more spin
✓ Concave handle shape for optimal grip
✓ 79g weight of the wood
✓ 2 layers of carbon accelerate your game
✓ Cardboard box with magnetic closure
✓ 5 layers of light walnut wood for more ball feedback
For advanced players who want to reach a new level.
You want to actively improve yourself? For this we have ignited the next level and developed the Black Edition. With a sponge thickness of 2.1 mm you have more energy and with the competition-ready ITTF Zero Gravity rubber you can play an excellent spin. 2 layers of carbon also generate more ball feedback and power in the shot. At the same time, you will receive high-quality design packaging with extra table tennis balls.
✓ CANDLENUT - The heinsa "black edition" not only inspires carbon fans, the middle veneer of the racket consists of light walnut wood "Candlenut" which provides excellent control in addition to feeling for the ball.
✓ PRO CARBON - 2 layers of carbon reinforcement create the typical carbon feeling - direct attack, flat trajectory and high penetrating power are the distinctive properties.
✓ BALANCED HIT - The connection between carbon and soft Candelnut as core veneer creates a lot of feeling and sufficient ball feedback in all game situations.
✓ ITTF RUBBER - The ITTF certified rubbers from Gambler "High Gravity" offer extreme grip for fast spin. 2.1 mm sponge thickness enables offensive players* to play at high speed.
Scope of delivery
1x table tennis bat, 2x table tennis balls (3 stars), 1x premium packaging.
Das Porto für den Versand ab 29,90 Euro Warenwert innerhalb Deutschlands, sowie die Kosten für die Verpackung übernimmt heinsa für Dich.

DHL GoGreen innerhalb Deutschlands – Kostenloser Versand ab 29,90 EUR
Sofort verfügbare Artikel liefert DHL in der Regel innerhalb von 1-3 Werktagen. 3,90 EUR Versandentgelt für Artikel unter 29,90 Euro.

DHL international in Mitgliedstaaten der EU - 9,99 EUR
Sofort verfügbare Artikel liefert DHL in der Regel innerhalb von 5-7 Werktagen.
Ab 150 Euro Warenwert übernehmen wir den Versand für Dich. Der Versand in die Schweiz kostet pauschal 19,95 Euro. 

DHL international Rest der Welt – 49,90 EUR
Sofort verfügbare Artikel liefert DHL in der Regel innerhalb von 7-10 Werktagen.


Rückgabe 
Du hast das Recht, binnen 60 Tagen ohne Angabe von Gründen diesen Vertrag zu widerrufen.
Der Rückversand geht an unser Lager mit der folgenden Adresse: 
heinsa c/o Seidler
Hildeweg 18a
22559 Hamburg
Deutschland
Du kannst Dich jederzeit bei uns melden, wenn Du Fragen zu Deiner Lieferung hast untersupport@heinsa.de
Kontakt
Wir sind aufgrund der Home-Office Regelungen momentan nur über Email oder Whatsapp erreichbar. 
24h Kundenservice unter: 
Email: support@heinsa.de
Whatsapp: 01751012018
Retoure
Wenn du deinen Artikel zurückgeben möchtest, schick uns einfach eine kurze Email oder Whatsapp und wir schicken dir ein kostenloses Rücksendelabel
Postanschrift:
heinsa c/o Thore Seidler 
Kopenhagener Str. 42
10437 Berlin
Deutschland
2,1 mm Schwammstärke ermöglichen offensiven Spieler*innen eine hohe Spielgeschwindigkeit. Extra viel Grip & Spin durch eine "Sticky Grip" Oberfläche.
2 Lagen Carbon-Verstärkung erzeugen das typische Carbon Gefühl - direkter Anschlag, flache Flugkurve und eine hohe Durchschlagskraft sind die prägnanten Eigenschaften. Das Mittelfunier des Schlägers besteht aus Lichtnussbaumholz "Candlenut" welches neben Ballgefühl eine hervorragende Kontrolle vermittelt.
Mit den ITTF-zertifizierten Belägen von Gambler "High Gravity" kannst du offiziell an Wettkämpfen teilnehmen.
Lierferumfang: 1x Tischtennisschläger, 2x Tischtennisbälle (3 Sterne), 1x Premium Verpackung.