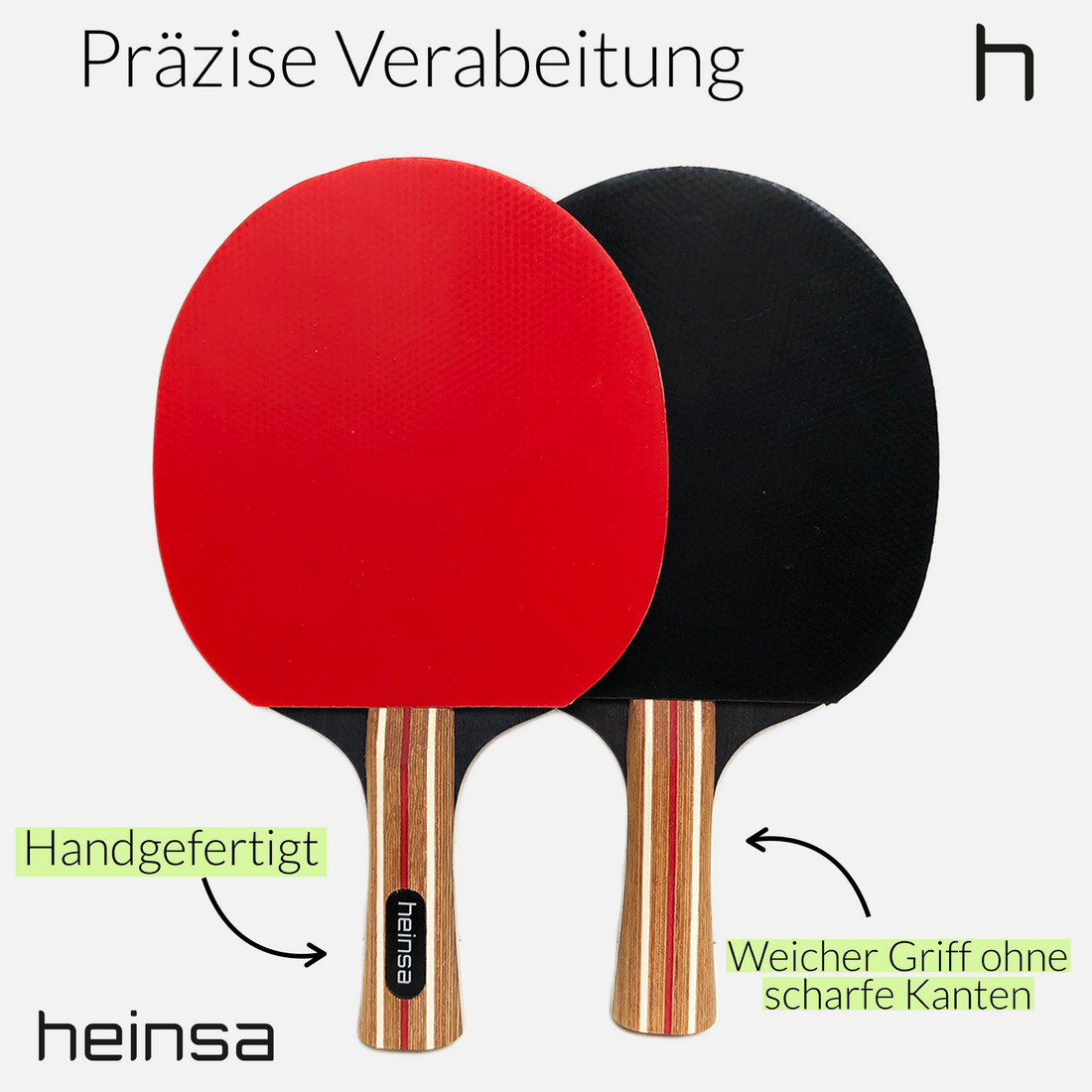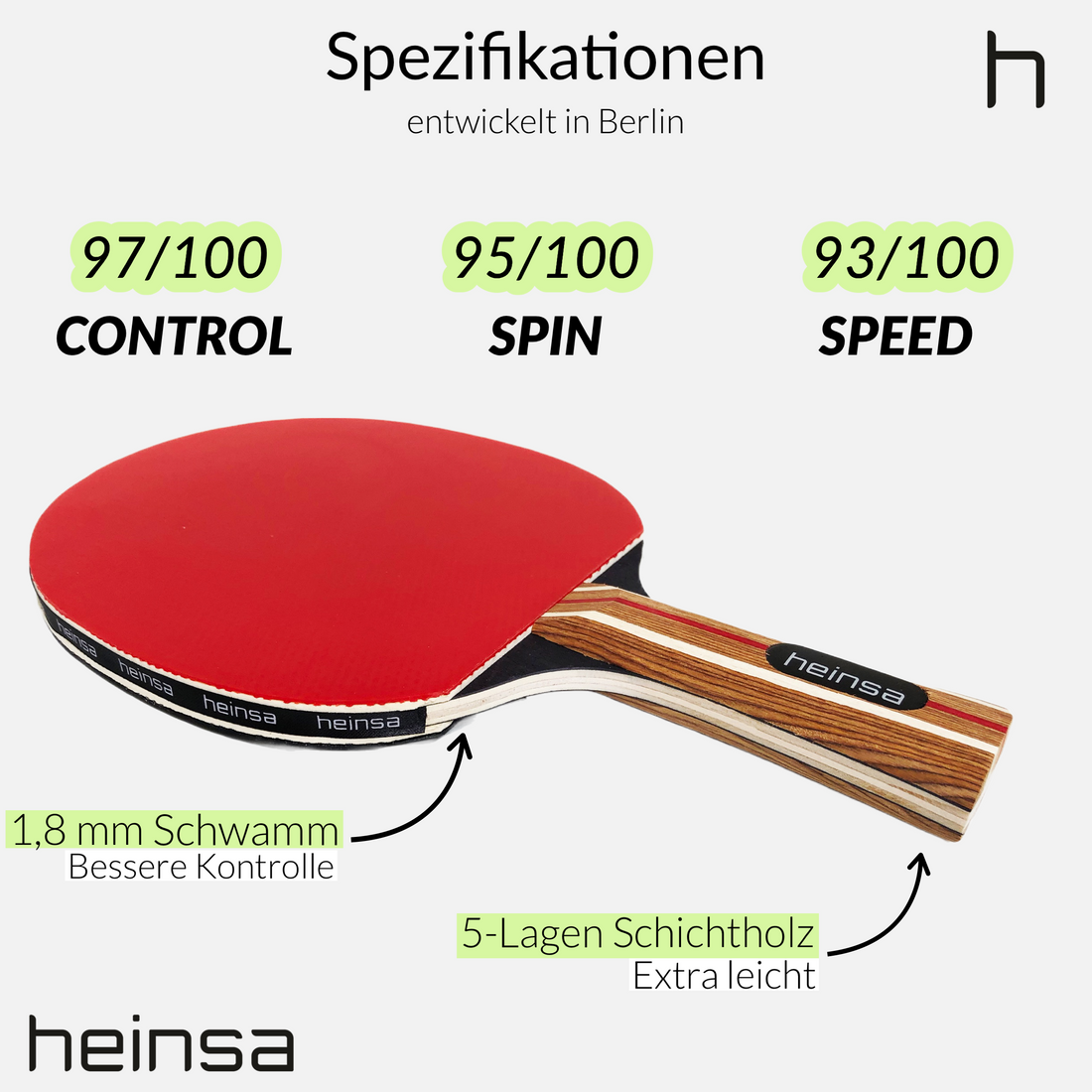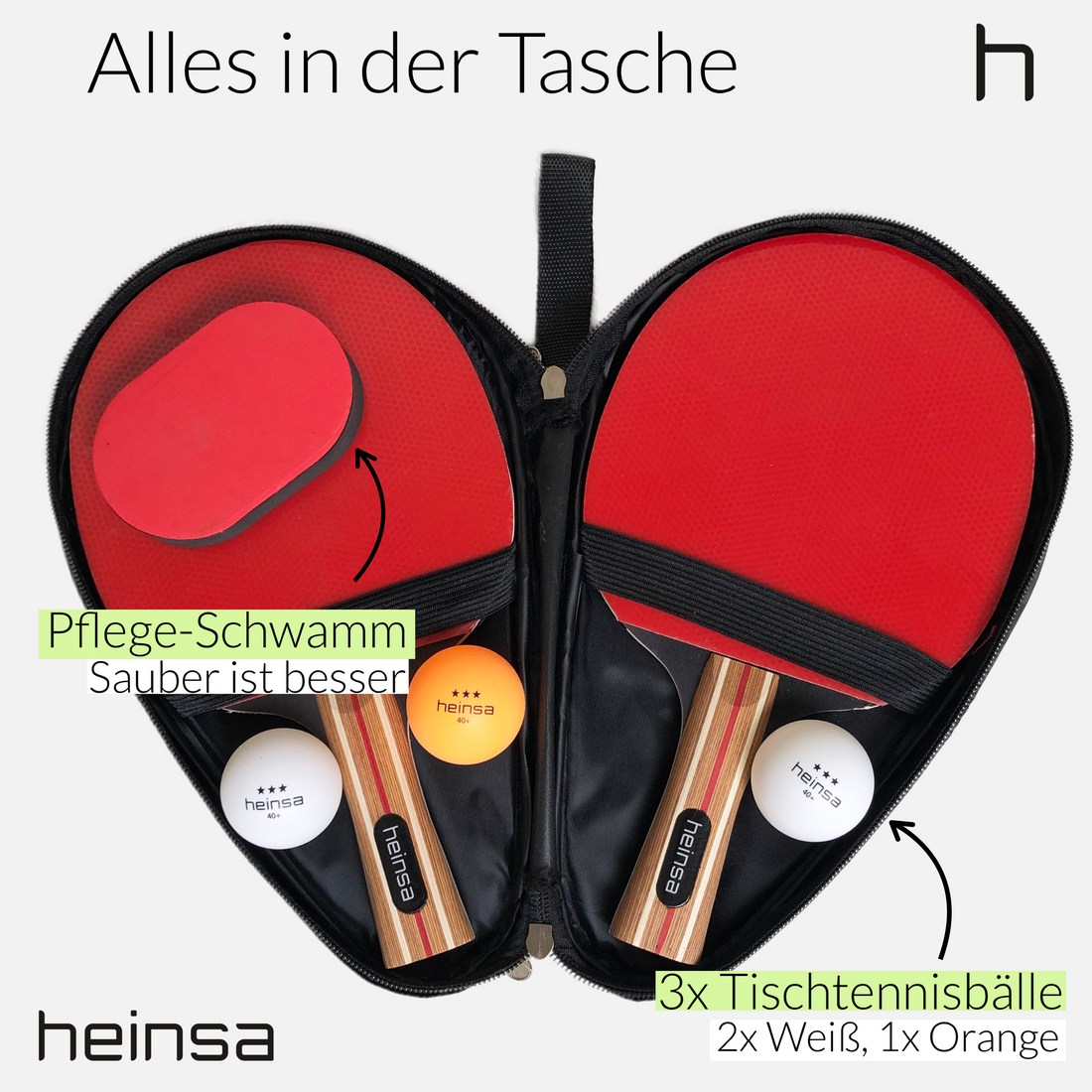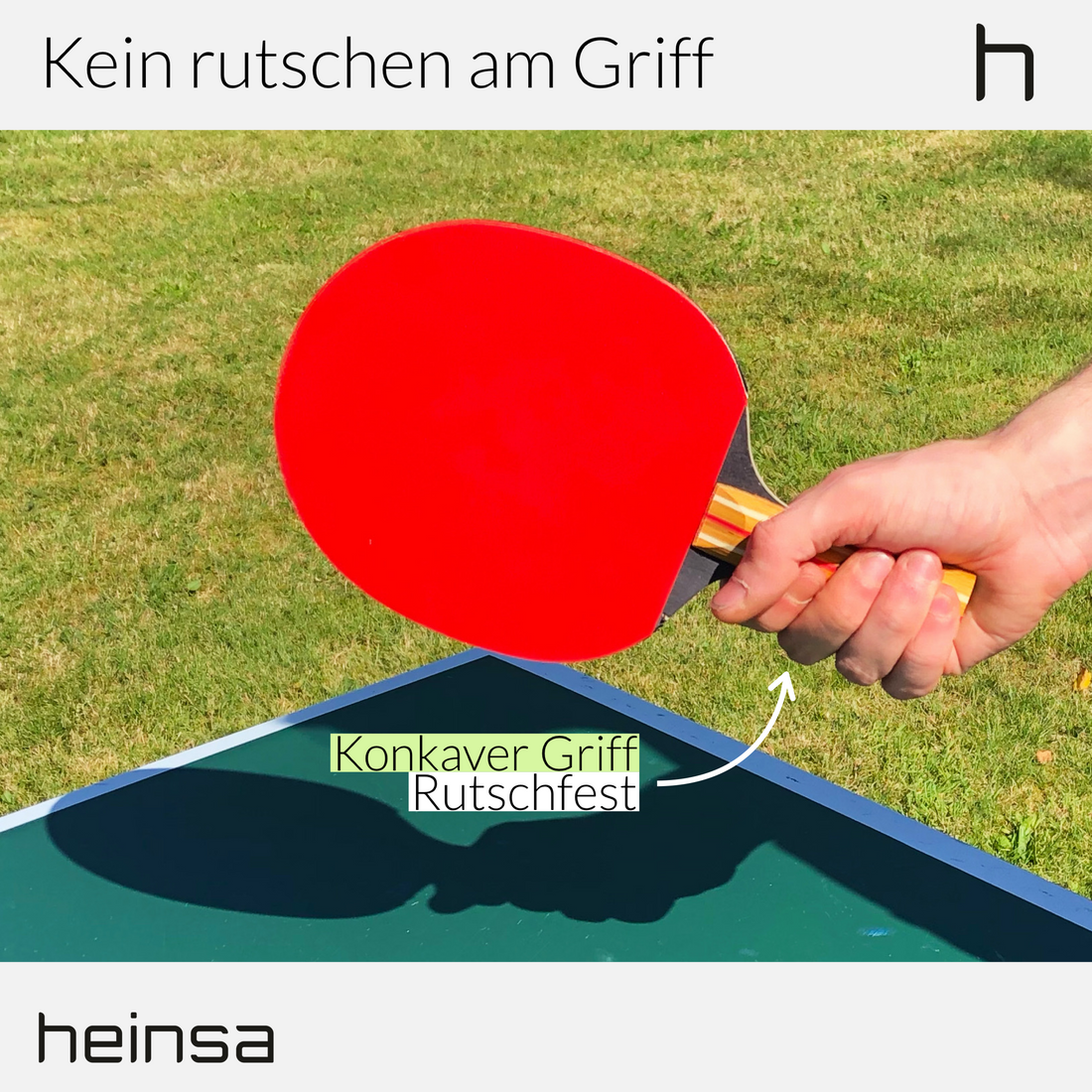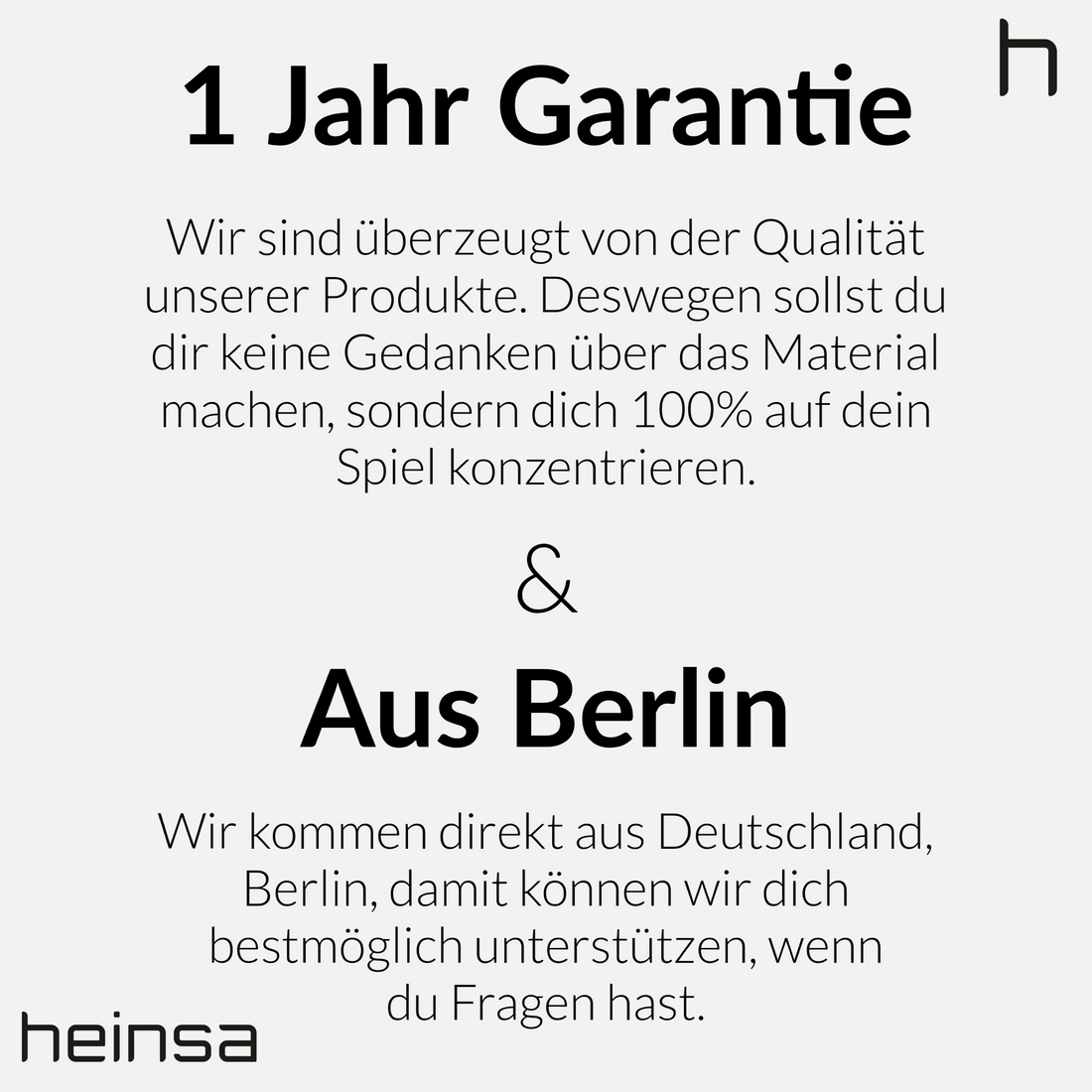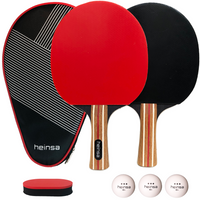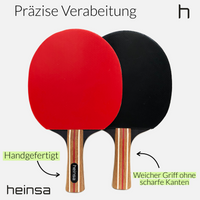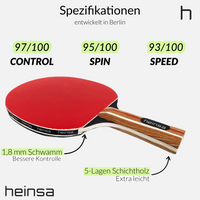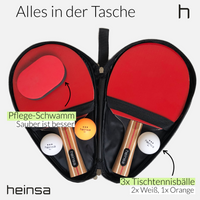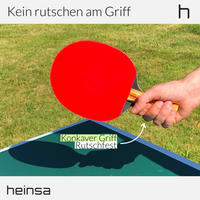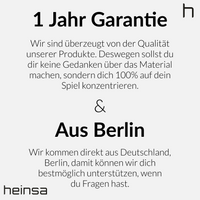 heinsa professional table tennis bat set
Delivery time within DE 1-3 days
60 days money back guarantee
Free shipping from 29 EUR
Designed in Berlin
Your advantages at a glance:
✓ 1.8mm Sponge thickness for speed and balance
✓ 5-ply poplar composite wood is light and robust
✓ Inside pimples achieve more spin
✓ Concave handle shape for optimal grip
✓ Cleaning sponge
✓ Protective cover in minimalist design protect racket and accessories
✓ 3 extra table tennis balls - 2x white, 1x orange
Table tennis racket
2 bats for 2 friends! Our table tennis bats are made of 5 layers of poplar wood. This composite technology makes the rackets very stable and yet light. You also get a sponge thickness of 1.8 mm, ideal for refining your shot!

Bag
A bag is mandatory! We've given our bag a carry handle and zippers made from small table tennis bats. The design of the bag shows a futuristic table tennis net in a stylish look!

Balls
Are balls included? Yes of course! We send our set with 3 stars and 40 diameter table tennis balls! We've also added an orange ball, so you can still smash in the twilight.
FREE care sponge
What is that? A sponge! Taking care of your racquets is important for a long game! You can use this sponge optimally with water or a suitable care spray. One side is hard and the other soft, try it!
Scope of delivery
2x table tennis bats, 3x table tennis balls (3 stars), 1x care sponge, 1x premium packaging
.
Das Porto für den Versand ab 29,90 Euro Warenwert innerhalb Deutschlands, sowie die Kosten für die Verpackung übernimmt heinsa für Dich.

DHL GoGreen innerhalb Deutschlands – Kostenloser Versand ab 29,90 EUR
Sofort verfügbare Artikel liefert DHL in der Regel innerhalb von 1-3 Werktagen. 3,90 EUR Versandentgelt für Artikel unter 29,90 Euro.

DHL international in Mitgliedstaaten der EU - 9,99 EUR
Sofort verfügbare Artikel liefert DHL in der Regel innerhalb von 5-7 Werktagen.
Ab 150 Euro Warenwert übernehmen wir den Versand für Dich. Der Versand in die Schweiz kostet pauschal 19,95 Euro. 

DHL international Rest der Welt – 49,90 EUR
Sofort verfügbare Artikel liefert DHL in der Regel innerhalb von 7-10 Werktagen.


Rückgabe 
Du hast das Recht, binnen 60 Tagen ohne Angabe von Gründen diesen Vertrag zu widerrufen.
Der Rückversand geht an unser Lager mit der folgenden Adresse: 
heinsa c/o Seidler
Hildeweg 18a
22559 Hamburg
Deutschland
Du kannst Dich jederzeit bei uns melden, wenn Du Fragen zu Deiner Lieferung hast untersupport@heinsa.de
Kontakt
Wir sind aufgrund der Home-Office Regelungen momentan nur über Email oder Whatsapp erreichbar. 
24h Kundenservice unter: 
Email: support@heinsa.de
Whatsapp: 01751012018
Retoure
Wenn du deinen Artikel zurückgeben möchtest, schick uns einfach eine kurze Email oder Whatsapp und wir schicken dir ein kostenloses Rücksendelabel
Postanschrift:
heinsa c/o Thore Seidler 
Kopenhagener Str. 42
10437 Berlin
Deutschland