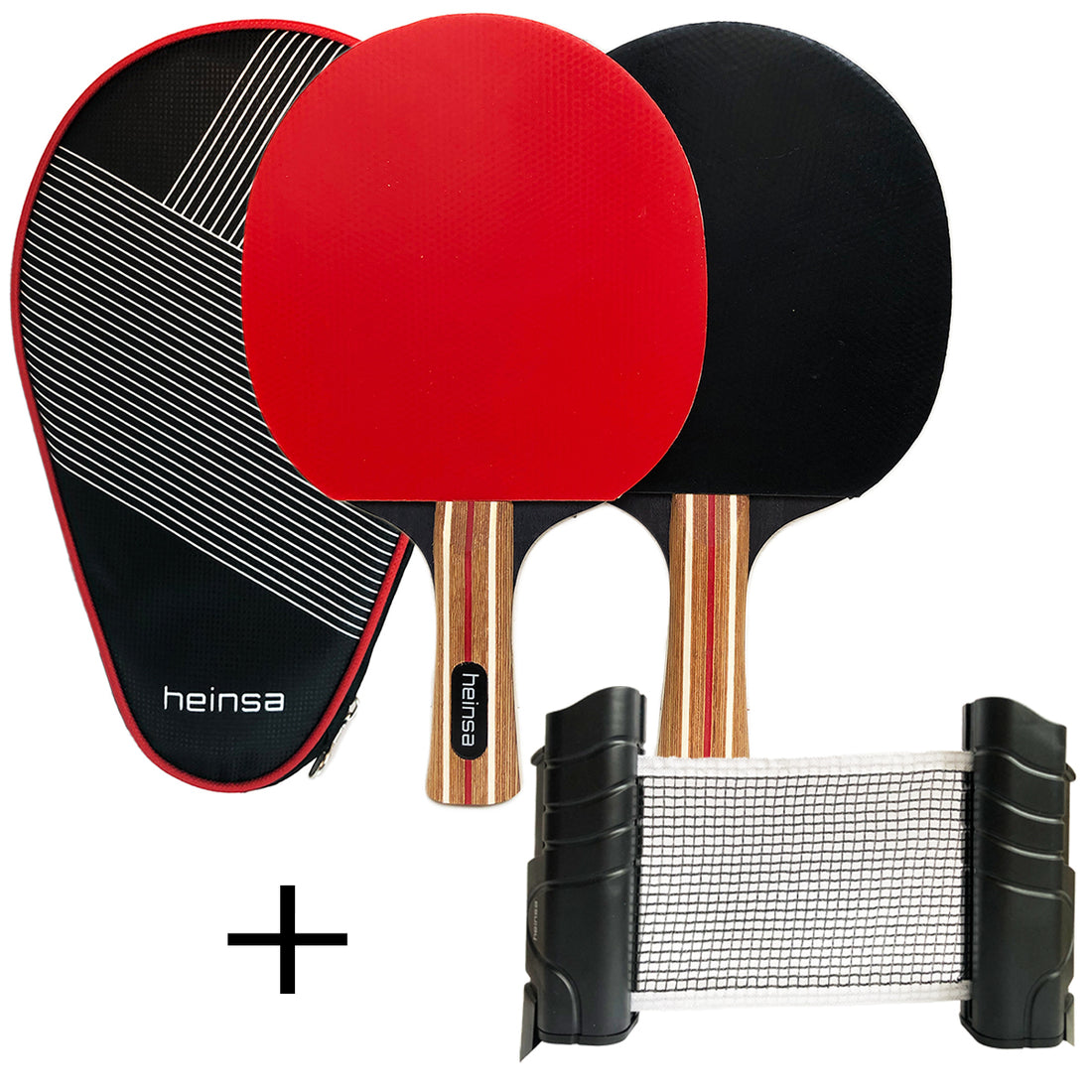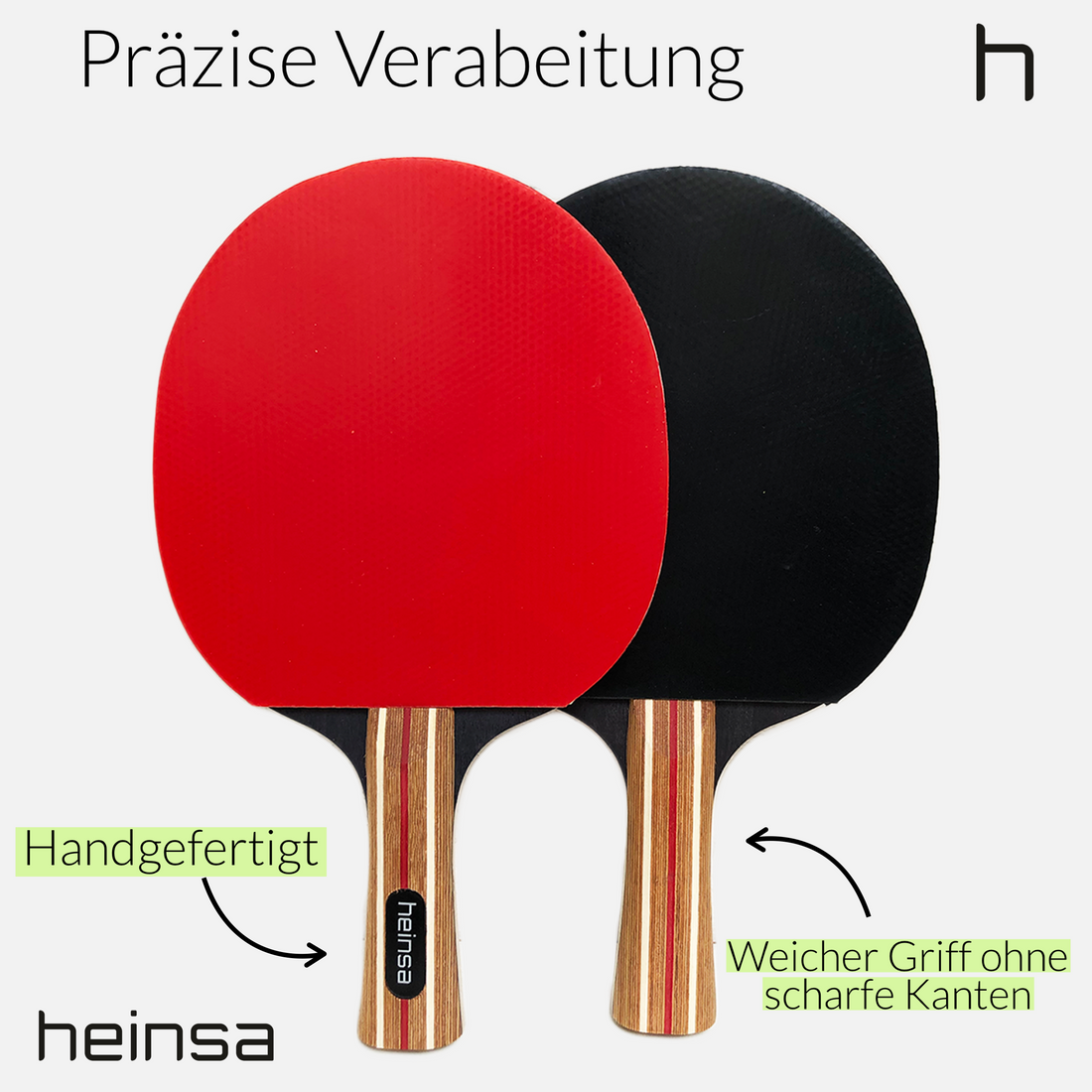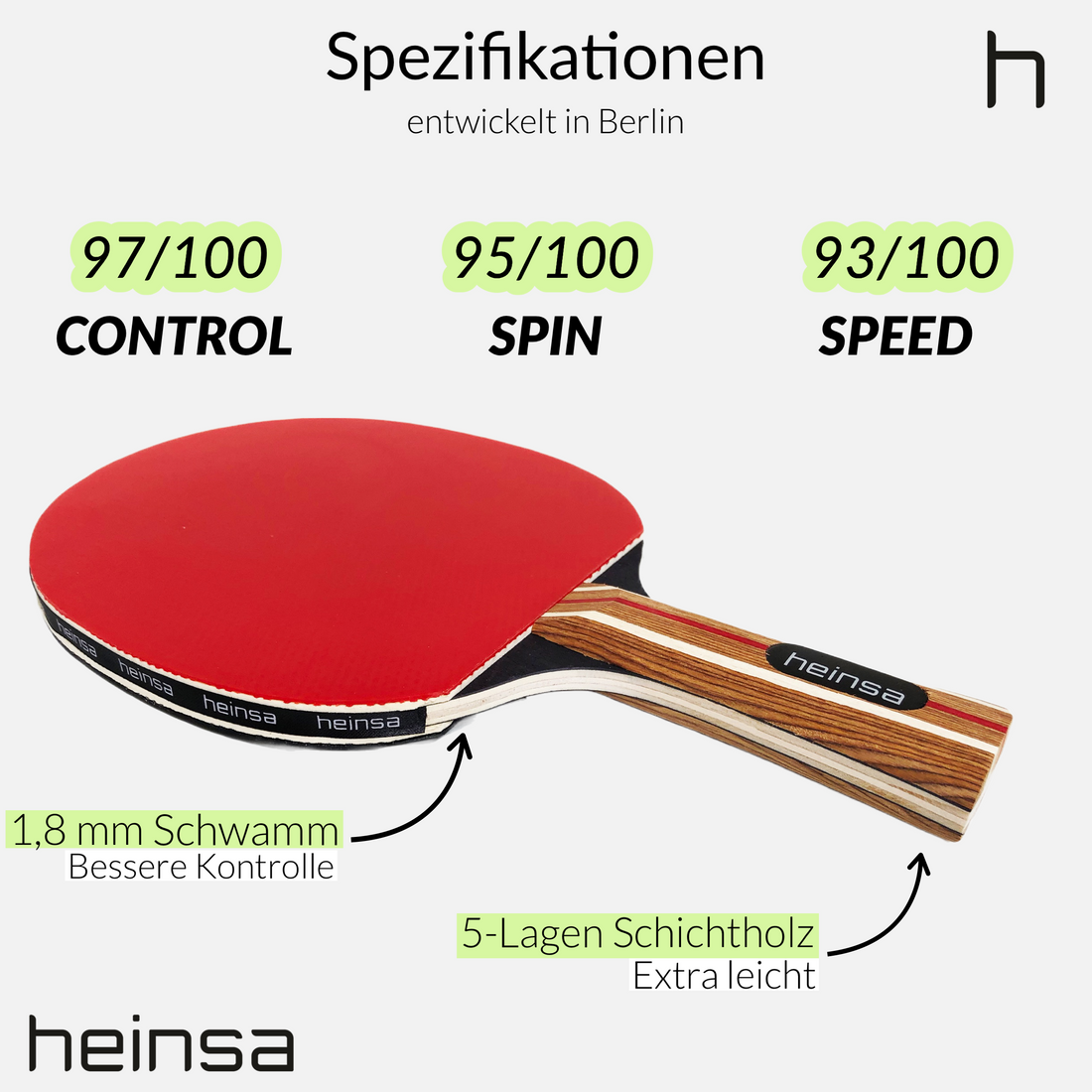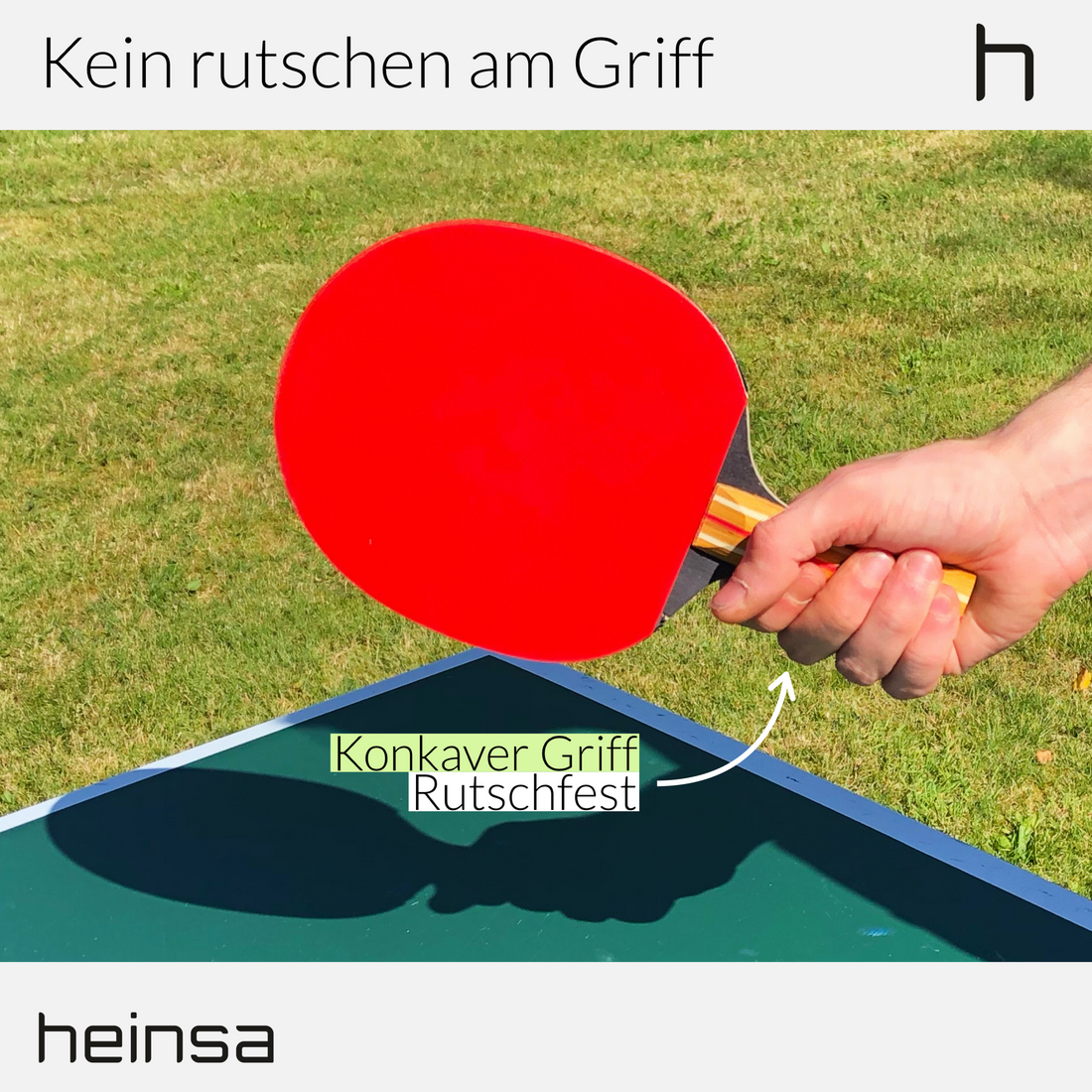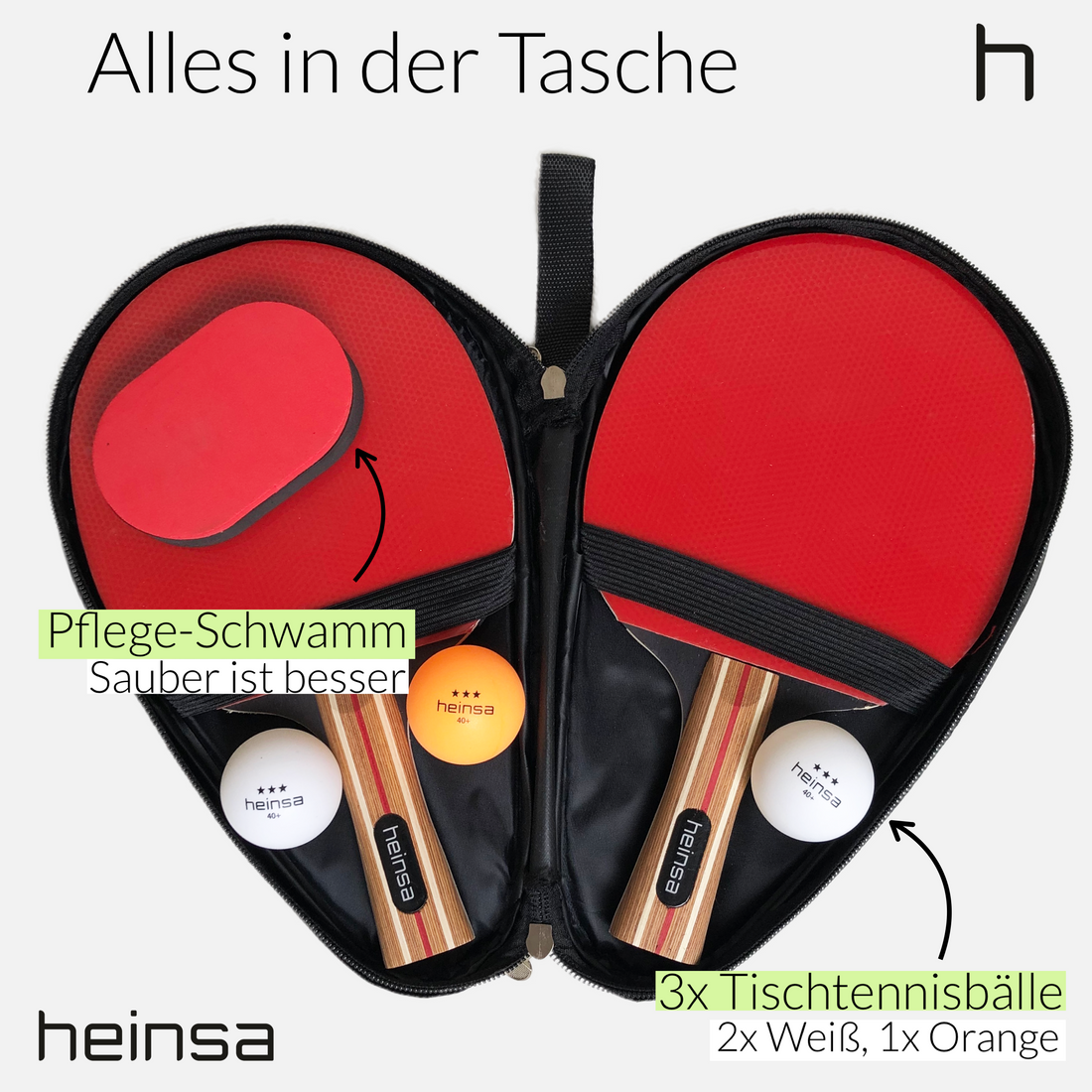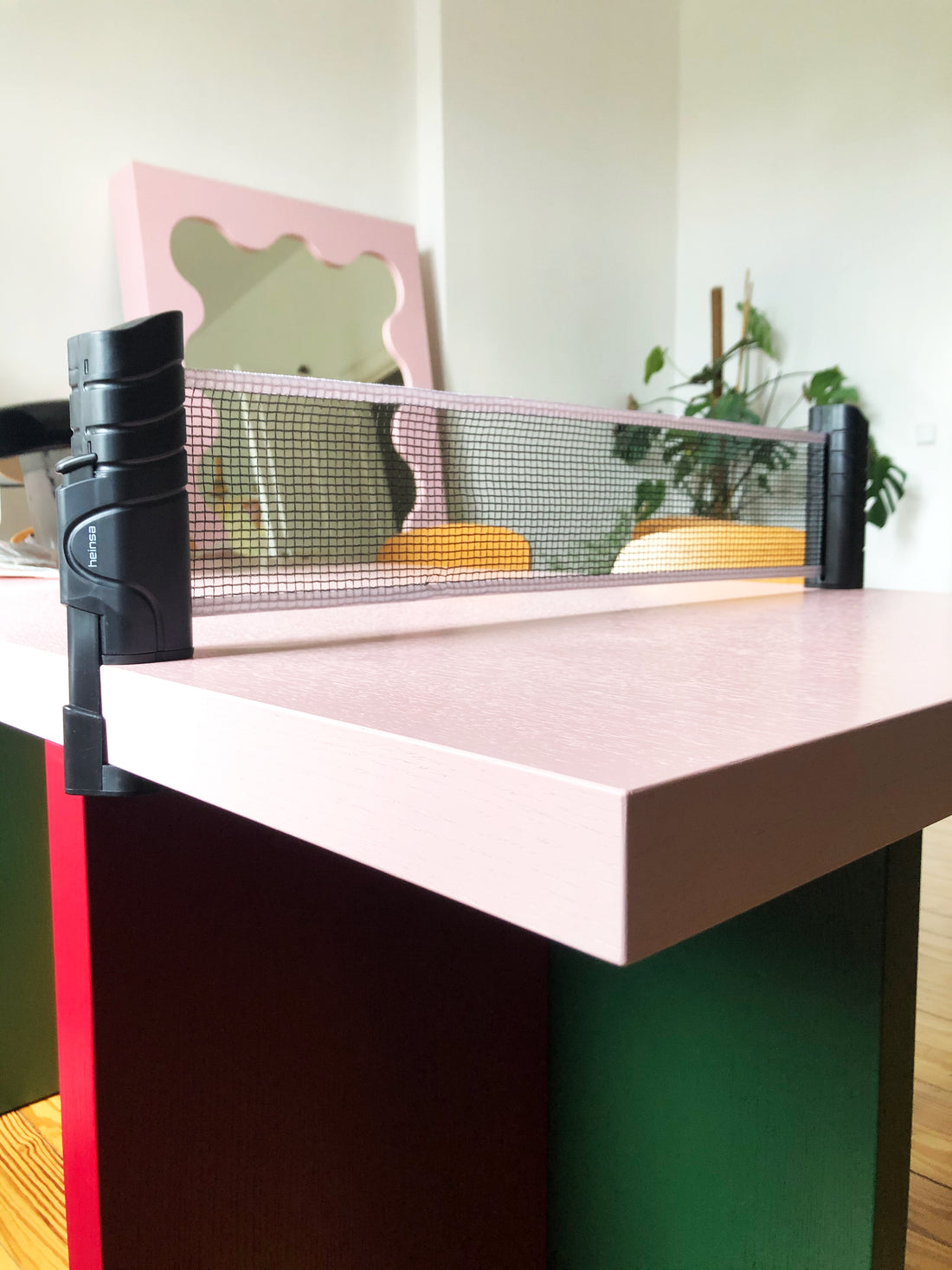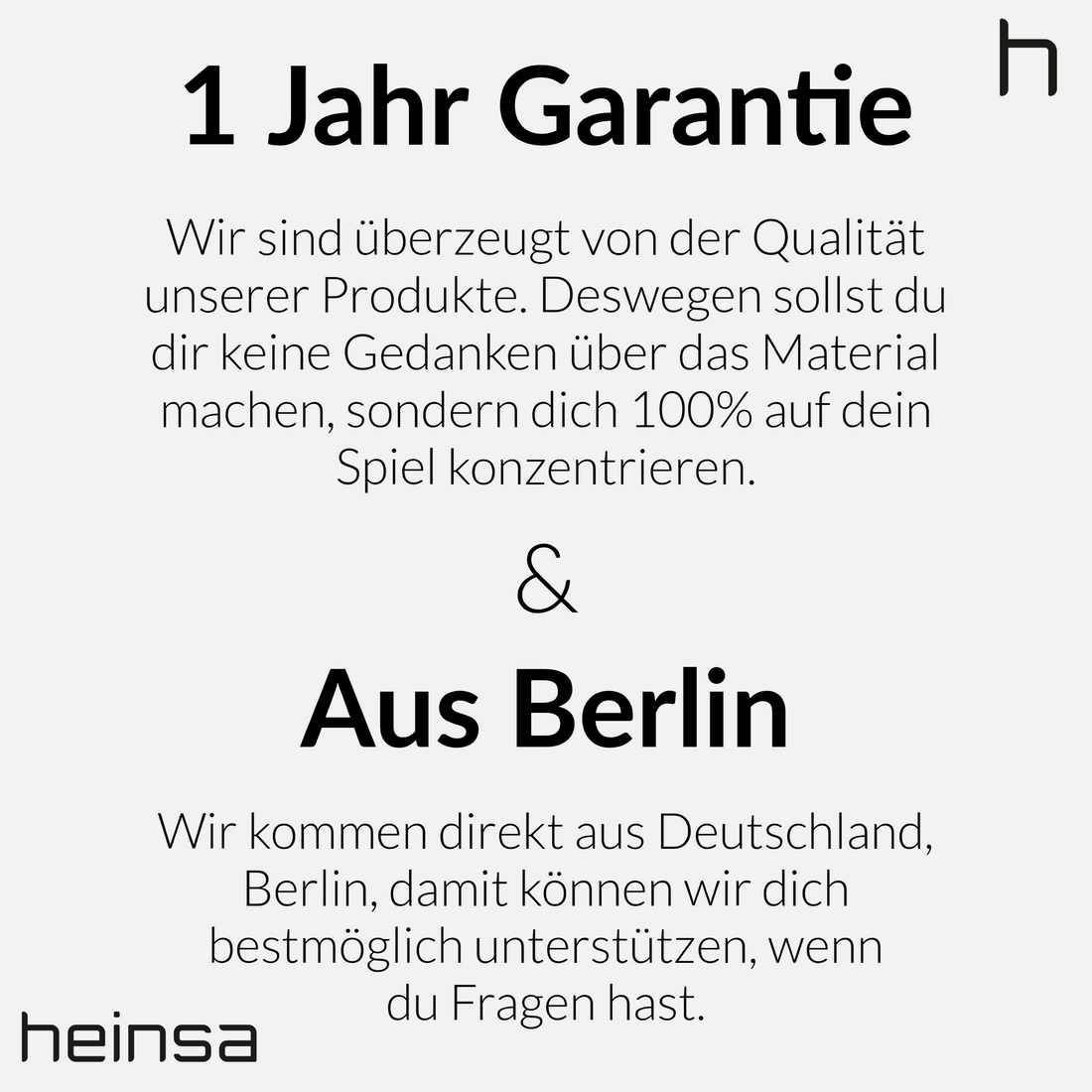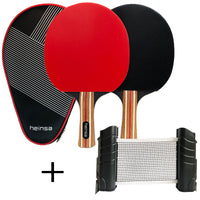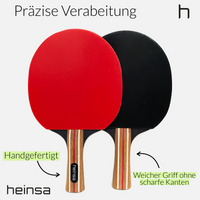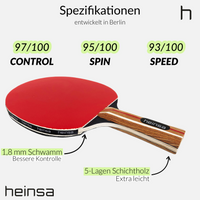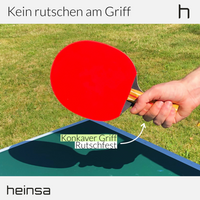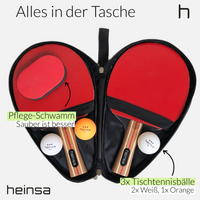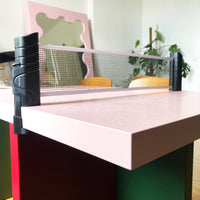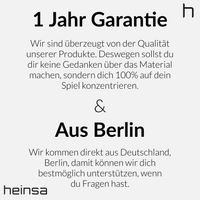 heinsa table tennis bat set with net
Delivery time within DE 1-3 days
60 days money back guarantee
Free shipping from 29 EUR
Designed in Berlin
Bundle Set
1x table tennis bat set with 2 bats
1x table tennis net for each table
YOUR ADVANTAGES AT A GLANCE:
✓ 2mm Sponge thickness for speed and balance
✓ 5-ply poplar composite wood is light and robust
✓ Inner pimples achieve more spin
✓ Anatomical handle shape for optimal grip
✓ Sponge to clean the racket
✓ Protective cover in minimalist design protect racket and accessories
✓ Extra table tennis net to pull out for each table
WITH EXTRA table tennis net - Play a quick game of table tennis, but no table tennis table? With the mobile table tennis net from heinsa, you can convert any table into a table tennis table.

PERFECT DYNAMICS - Improve your technique with the professional table tennis bat set from heinsa and achieve more control with 2 mm sponge thickness and extra grip. Topspin, sidespin and backspin are made child's play for every player thanks to internal nubs.
EXTRA table tennis balls - The Salvador table tennis balls from heinsa have been developed with attention to detail and durability. 40+ mm diameter is the tournament standard, so you have perfect aerodynamics and control over your ball at the same time.
ACCESSORIES - Ready to start at the table tennis table with your friends. We ship our table tennis racket set in a stylish racket cover with extra balls and a care sponge.
Scope of delivery
2x table tennis bats, 3x table tennis balls (3 stars), 1x care sponge, 1x premium packaging + 1x table tennis net
Delivery time within Germany
Das Porto für den Versand ab 29,90 Euro Warenwert innerhalb Deutschlands, sowie die Kosten für die Verpackung übernimmt heinsa für Dich.

DHL GoGreen innerhalb Deutschlands – Kostenloser Versand ab 29,90 EUR
Sofort verfügbare Artikel liefert DHL in der Regel innerhalb von 1-3 Werktagen. 3,90 EUR Versandentgelt für Artikel unter 29,90 Euro.

DHL international in Mitgliedstaaten der EU - 9,99 EUR
Sofort verfügbare Artikel liefert DHL in der Regel innerhalb von 5-7 Werktagen.
Ab 150 Euro Warenwert übernehmen wir den Versand für Dich. Der Versand in die Schweiz kostet pauschal 19,95 Euro. 

DHL international Rest der Welt – 49,90 EUR
Sofort verfügbare Artikel liefert DHL in der Regel innerhalb von 7-10 Werktagen.


Rückgabe 
Du hast das Recht, binnen 60 Tagen ohne Angabe von Gründen diesen Vertrag zu widerrufen.
Der Rückversand geht an unser Lager mit der folgenden Adresse: 
heinsa c/o Seidler
Hildeweg 18a
22559 Hamburg
Deutschland
Du kannst Dich jederzeit bei uns melden, wenn Du Fragen zu Deiner Lieferung hast untersupport@heinsa.de
Kontakt
Wir sind aufgrund der Home-Office Regelungen momentan nur über Email oder Whatsapp erreichbar. 
24h Kundenservice unter: 
Email: support@heinsa.de
Whatsapp: 01751012018
Retoure
Wenn du deinen Artikel zurückgeben möchtest, schick uns einfach eine kurze Email oder Whatsapp und wir schicken dir ein kostenloses Rücksendelabel
Postanschrift:
heinsa c/o Thore Seidler 
Kopenhagener Str. 42
10437 Berlin
Deutschland